Spigen has several case options for the iPhone 6 Plus including plastic, bumper, and wallet cases. The Slim Armor CS (card slot) case is a wallet case that is designed to hold two cards. Brandon reviewed the Thin Fit Case for the iPhone 6 earlier this year. The Slim Armor CS case can be purchased on Amazon or through the Spigen website. It comes in four colors: Shimmery White, Gunmetal, Mint, and Champagne Gold, and at the time of writing, all colors cost about $25.
Design
The Slim Armor CS case is a minimalist case with added utility. It has a low profile fit, but does have some additional offset on the front and back, to protect the screen and camera lens. Overall, it is thin, but is slightly larger than some cases due two these added protective features. As a random observation, the case almost makes the phone look smaller than it does without the case on. I'm always reminded of just how large the iPhone 6 Plus  is, when it is not in a case.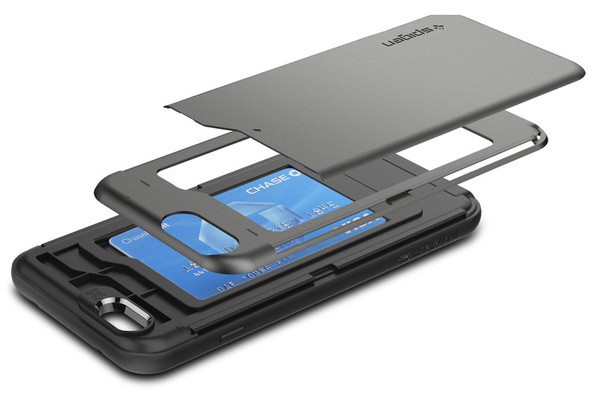 The main body and slide are a rigid matte/low gloss polycarbonate. The color appears to be painted, as opposed to molded. The front bezel, camera bezel, and internal card liner are a flexible TPU. The front bezel wraps around the side, like a bumper case, to provide additional protection and grip. Without the TPU, it would be difficult to grip the iPhone 6 Plus and the back surface is actually quite slick, so this is a welcome design feature.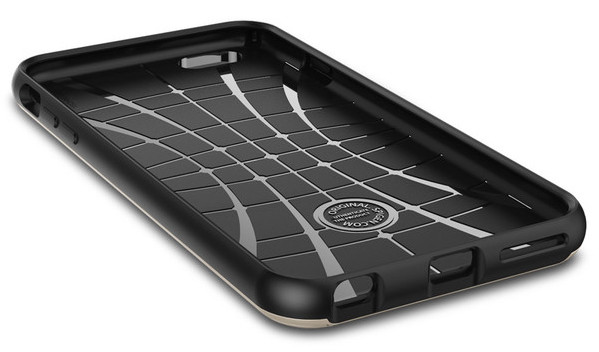 This case is very different than other card slot sliding cases I've had previously. The card area in completely encapsulated in TPU. Other cases have been open to the back of the phone, so a back screen protector is needed to protect the surface of the phone. This makes install of this case much less of a hassle. One negative feature of the slider, is it can be very difficult to grip to slide. There is a tiny cutout, but no real way to grip the slider to pull it open. This can make for some awkward fumbling at the register. It would have been nice to have a raised feature, a cutout, or even some of the TPU or other grippy material, to help with the opening process. Closing it is easy enough, however.
All connection ports, the mute switch, and the camera area are exposed with this case, lined in TPU, but the volume and sleep/wake buttons are in-molded. Every cutout has generous chamfering and are easily accessed. This chamfering is also present in the camera area, so as not to impede the flash. The slide does not get in the way of plugged in charging cable or headphones when opened.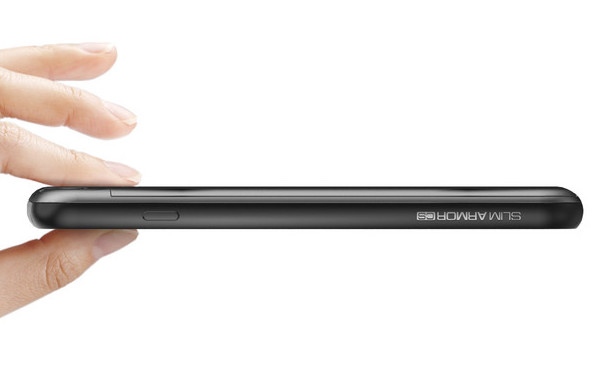 The aesthetic of this case is pretty spartan. The matte plastic gives a nice bit of color without being too flashy. I purchased this case in Mint, but all four colors look good. Amazon lists the case as 5.8 ounces and the case is pretty lightweight, for a case with drop protection. This may be a bit too much for those interested a super minimalist shell case, but it's at the mark for what I was looking for in a wallet case.
Build Quality/Protection
The overall build quality of this case is pretty good and it has an easy fit. For a slim case, this case has a survived several (way too many) falls, I'm pretty sure I drop it once (maybe twice) a week, and it has not shown any damage. I have dropped it in every orientation. For this reason, I am very confident in the protection offered by this design.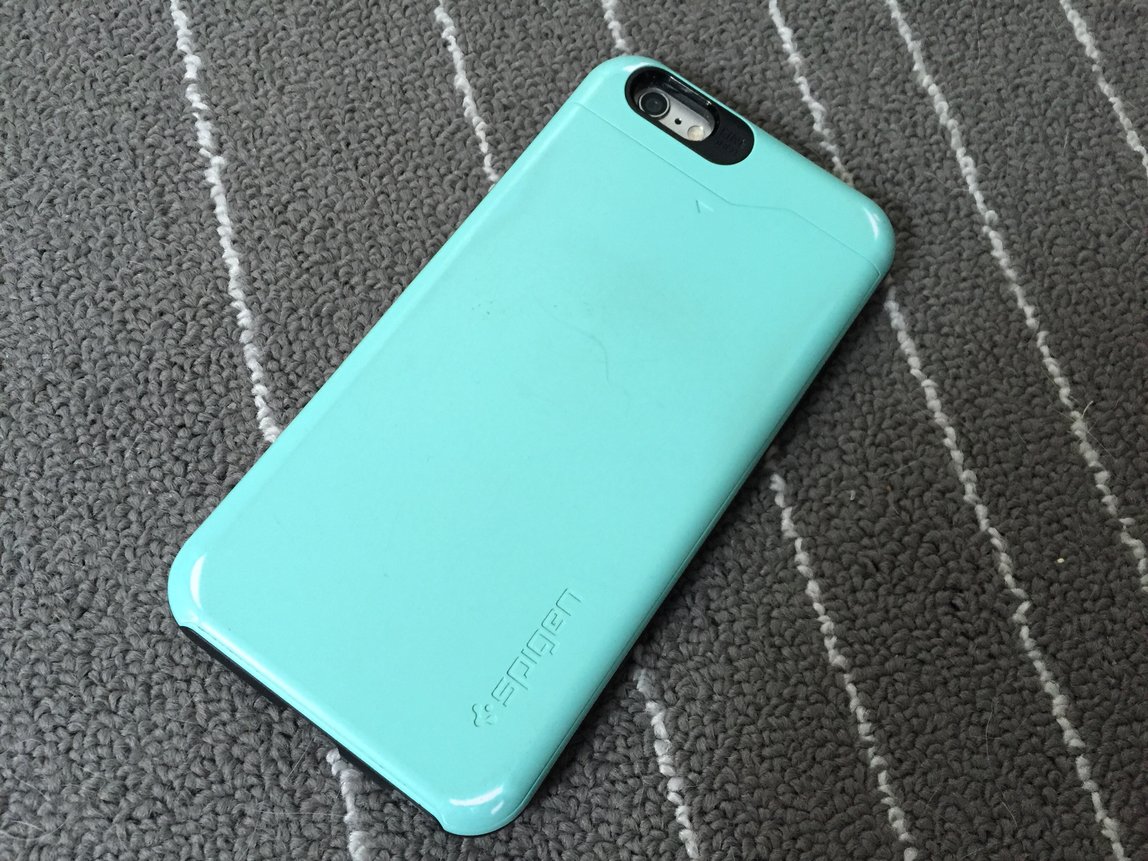 I tend to keep my phone in my pocket, and because the color is painted on instead of molded in, I have seen paint wearing in the corners. This may also be from general surface wear. I see this as a frustrating issue, because over time, it ruins the aesthetic of the case.
As a note of warning, I recommend only putting in a maximum of two cards. I have started to see a gap along the slide rail along the sides of the case. I believe this is from putting in too many cards. Overall, this is not a significant issue and the gap is hardly noticeable, but the slide doesn't function as well with more than two cards.
Wrap Up
Overall, the Spigen Slim Armor CS case is one of my favorite cases that I have owned. At around $25 on Amazon, it has excellent damage protection and utility at a good price. Despite some small issues with the design of the slide and paint wear, I have enjoyed this case and will likely continue to use it until I get another phone, or until I do it in with one to many drops. I have been satisfied with previous Spigen cases, and recommend them as a brand and will continue to consider their options for future phones.